Concertgebouw organising new Mahler Festival in 2025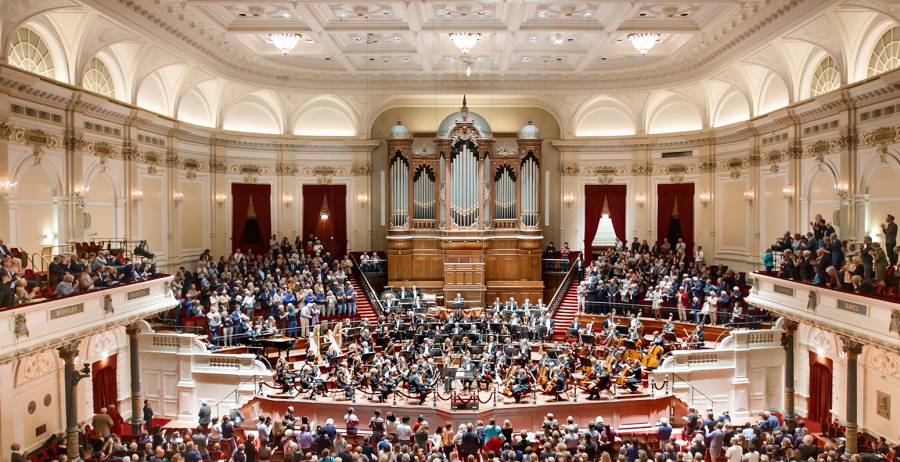 From
9
to 18 May 2025,
t
he Royal Concertgebouw will host
the
third Mahler Festival in its history.
As
a grand tribute to the composer
, o
rchestras from around the world will come together in Amsterdam
105 years after the first Mahler Festival
.
During this ten-day event, all the composer's symphonies and songs will be performed. The Royal Concertgebouw Orchestra, under the direction of future Chief Conductor Klaus Mäkelä, will open the festival with Mahler's First Symphony. The Berlin Philharmonic closes the festival with Mahler's unfinished Tenth Symphony. Pianist Julius Drake will also perform Mahler's complete song repertoire together with various young singers in the Recital Hall.
Mahler and his second musical homeland
Composer and conductor Gustav Mahler had a strong bond with The Concertgebouw. To conductor Willem Mengelberg he wrote that he found 'his second musical homeland' in Amsterdam. He conducted his own symphonies with the Concertgebouw Orchestra several times and was honoured by the attention and enthusiasm shown by Amsterdam audiences. As an homage to the composer, Conductor Willem Mengelberg organised the first Mahler Festival in 1920 to mark his 25th anniversary conducting.
Even more international
Amsterdam audiences' love of Mahler has only grown with time. In 1995, the Concertgebouw organised another Mahler Festival, bringing together the world's best orchestras for consecutive performances of the composer's complete symphonic works in chronological order. A new Mahler Festival was planned for 2020 but had to be cancelled due to the corona pandemic.
From 7 to 18 May 2025 the Concertgebouw will once again organise the Mahler Festival. This time the line-up will be even more international and include an Asian orchestra: NHK Symphony Orchestra from Tokyo. Conducted by Fabio Luisi they will perform Mahlers Fourth Symphony.
'Top orchestras from three continents'
Managing Director Simon Reinink: 'It gives us great pride as The Concertgebouw to be able to present this Mahler Festival in May 2025. For the first time in history orchestras from three different continents will participate: besides European orchestra's also an American and an Asian orchestra. Thereby we demonstrate that Gustav Mahler is one of most loved composers worldwide.'
Passe-partout sales
Passe-partout sales for the Mahler Festival will start Tuesday, November 14, 2023. The complete programme will be announced shortly before then. Interested parties can sign up for the special Mahler Newsletter.