Concertgebouw announces programming for Mahler Festival's Pavilion on the Museumplein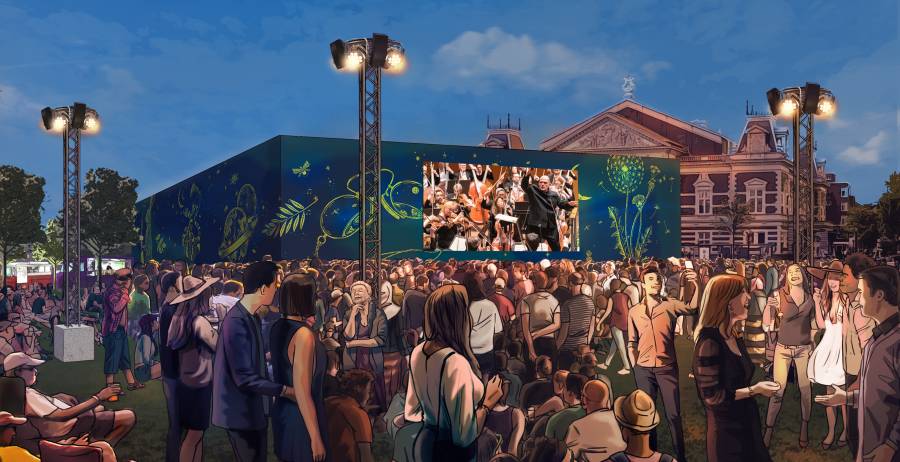 In addition to the live streams, a variety of events will take place in the Mahler Pavilion, such as pre-concert lectures (Mahler talks), films and documentaries related to Mahler (Mahler @The Movies), lunch concerts, and lectures by authoritative speakers from different disciplines about Mahler's time (Mahlers Zeitgeist). During the first festival weekend there will be a two-day symposium organised, in association with the International Gustav Mahler Society Vienna and the Gustav Mahler Stichting Nederland, on the texts that Mahler used for his symphonies and songs. Food and drink will be provided by a Mahler Café and food trucks.
Full Mahler Pavilion Programme
Mahler Documentaries
Ten short inspiring documentaries each have been commissioned from the production company MediaLane TV by The Concertgebouw, and partly financed by the Mahler Foundation. The documentaries – one for each symphony – provide background and context around the symphonies. They will be shown before each concert in the Main Hall and the live streams in the Mahler Pavilion.
Mahler and kids Young
audiences will also be introduced to Mahler's work. The Concertgebouw is offering special Mahler lessons through its digital '123ZING' programme, and in early February, a production entitled Me, Myself and Mahler will be attended by 4.000 schoolchildren age 10/11 in The Concertgebouw. During the late-spring school holiday, a series of family concerts, entitled Vreemde Vogels ('Strange Birds') will take place out in nature in accordance with Staatsbosbeheer (the Netherlands' forest service) and the Nationale Park de Hoge Veluwe.
Mahler in the City
Other Amsterdam cultural institutions are participating in the Mahler Festival as well. Paradiso, the Rijksmuseum and Theater Bellevue will host concerts and theatrical performances. The Van Gogh Museum will organise lectures in the Mahler Pavilion about Mahler and his contemporaries, including Gustav Klimt and Oskar Kokoschka. The Rijksmuseum will provide a special exhibit called 'Mahler and his Dutch friends', a cabinet with photos from the estate of composer Alphons Diepenbrock, which will illustrate the depth of the special bond between Mahler, Mengelberg and other friends in the Netherlands.